The horse digests cereals less well than fodder?
It's a claim you'll find regularly quoted on social media. It is based on the idea that the starch contained in cereals is not well digested or even that adding a cereal to a ration would ipso facto lead to poor overall digestion of the latter. On the other hand, the more fiber a food is, the better it would be digested.
Let's compare the starch content of different products.
We find that whether there is starch or not in a product is related to the botanical family and the part of the plant. No starch in the stems (hay, straw) or roots (beet) but only in the seeds if the plant stores its energy in this form. So for example, no starch in an oilseed like flax.
Let's compare the fiber content of a number of common foods:
Overall, it can be seen that forages (green and yellow) are less well digested than cereals or oilseeds (orange and blue).
Now let's make the connection between the starch content and the digestibility of the product.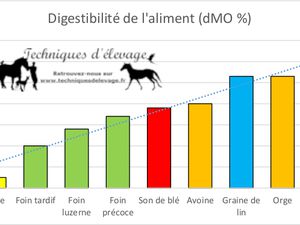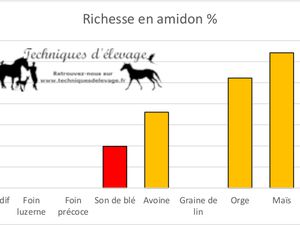 Digestibility / starch content of horse feed. Breeding techniques (R). All rights reserved
If we look at all the products, there is no obvious correlation between starch content and digestibility. Indeed, a hay like a flax seed does not contain starch. If starch content and digestibility were directly related, then flax seed would have to be digested like hay. In fact, it is not.
On the other hand, if we look at the link between fiber content and digestibility, it is clear that the more a food is rich in fiber, overall, the less well digested. The less it is rich in fiber, the more digestible it is.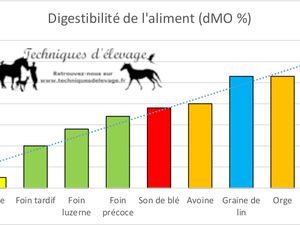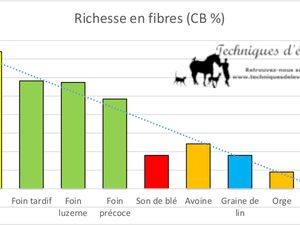 Digestibility / cellulose content in horse feed. Breeding techniques (R). All rights reserved
In conclusion, contrary to what we can read here and there, starch is well digested and the fact of choosing a food richer in fiber will lead you to reduce digestibility. This is a classic result, well known to zootechnicians and globally valid for many animal species. In short, even if this idea goes against the grain of what we read so often on social networks, it is far from new… This principle has been demonstrated for over 60 years. We cannot say that I am today in innovation.
But then why do we read anything else? Because we confuse digestibility and digestive hygiene. In other words, we confuse the fact that a food is easy or not to be degraded by the digestive processes and the balance of the digestive system itself.
To function properly, a digestive tract needs a sufficient fraction of indigestible elements. The digestible elements by definition will "disappear" along the way, they will not reach the end. So if you have an overly digestible diet, the end of the digestive tract will not be able to function properly.
So yes, fiber is essential for digestive hygiene, a good diet and the well-being of your horse, but not because it is better digested. On the contrary, their main quality is precisely that they are worse off.
Catherine kaeffer